Why click through from my website?
Because at NO extra cost to you, going through that way actually gives us a little more income (and we appreciate that!) in the form of vouchers that I can spend on tools etc. through something called the Amazon affiliate scheme. The links will direct you to your country's Amazon site.
NEW:The Dollhouse Flower Shop
A riot of flowers in polymer clay but this time made like never before using stencils to 'print' the plant parts.
Stencilling with a mix of solid polymer clay and liquid clays is a new adventure for both Angie and her students. A patience-free way to produce the flowers in large enough numbers to fill a dollhouse shop.
These ideas look at new and different ways of using polymer clay to produce beautiful, delicate flowers and plants which are resistant to moisture and can be semi translucent, in delicate subtle or glorious strong colours without individual painting of leaves and petals.
Click to buy print copy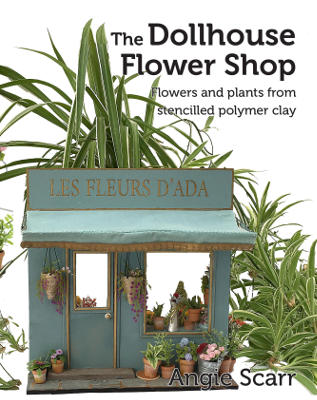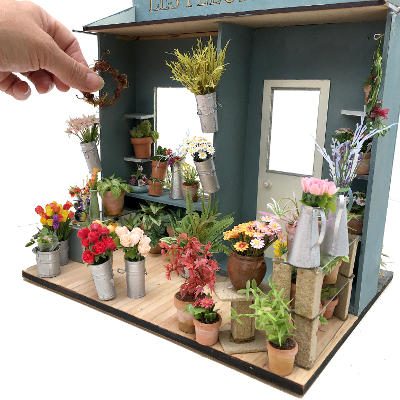 The Miniature Gardens Book
Once again Angie Scarr lets you peer into her workshop, her mind and, in this book, her garden. Leading you through more explorations into uses of polymer clay, liquid polymer and mixed media for a realistic depiction of nature presented in some simple and some more complex projects.
Click to buy print copy